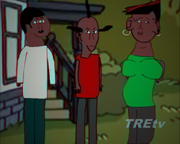 Dating is the second episode of Linner in Season 1. It originally aired on June 17, 1994 on TREtv (now DPS).
Linner hangs out at Sumo's house, plays videos games on Sumo's Sega Genesis. Clarrisa come by & knocks on the door to get Sumo to date her. Linner tells Clarrisa that she is dating Sumo. Clarrisa takes Sumo to the movie theater, see Red Nose.
Section heading
Edit
Write the second section of your page here.